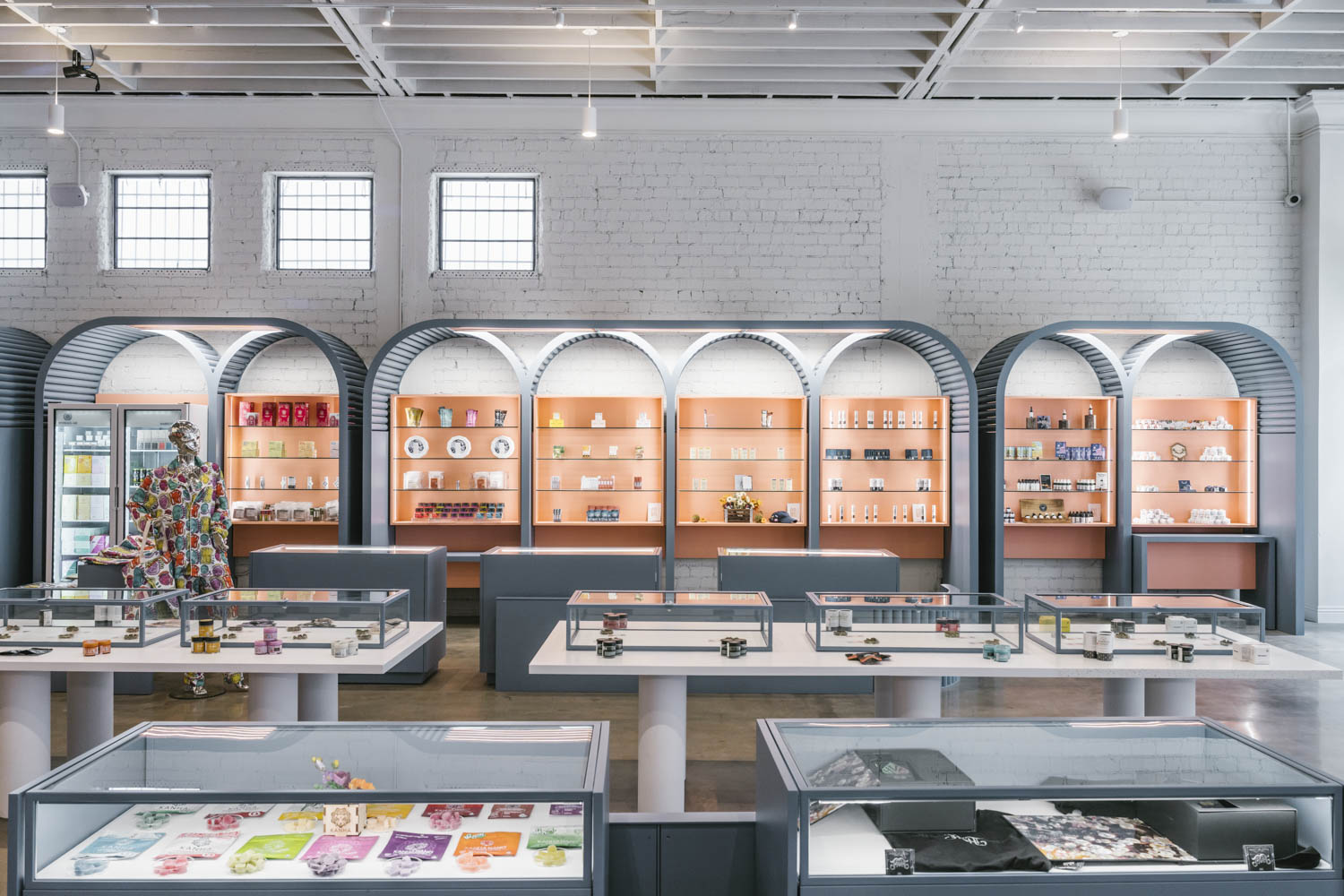 Green Qween Dispensary Honors Queer History Through Design
Part community organization, part social enterprise, Downtown Los Angeles cannabis retailer, Green Qween, has vowed to do business differently. Located in a refurbished Art Deco building on Broadway Theater Row, its apricot and mint fluted metal displays, light-reflecting disco ball, and crisp geometry not only make it an aesthetically pleasing space but one where all are welcome.
"The modern medical cannabis movement was spurred by LGBTQIA+ activists in the Castro, but that history has been a bit lost," says Green Qween cofounder Taylor Bazley, who previously worked as senior field deputy and LGBTQIA+ liaison for the city of Los Angeles. While Bazley and his business partner, Andrés Rigal, felt their plan would be a slam dunk, the road to opening was difficult.
"We had to make our case to the city council and we were one of 50 other cannabis entrepreneurs applying for a license," Bazley adds. A Change.org petition, which received 4,000 signatures in one weekend sealed the deal. "It was reposted by Cara Delevigne, Demi Lovato, and Shangela from "Ru Paul's Drag Race." It tapped into the underlying fact that there is a need for businesses like ours," he says. Green Qween is now the only social equity licensed dispensary in the state and features LGBTQIA+, BIPOC, and women-owned brands. Better yet, it donates a portion of profits to fund the DTLA Proud LGBTQIA+ Center.
How the Design of Green Qween Reflects Its Mission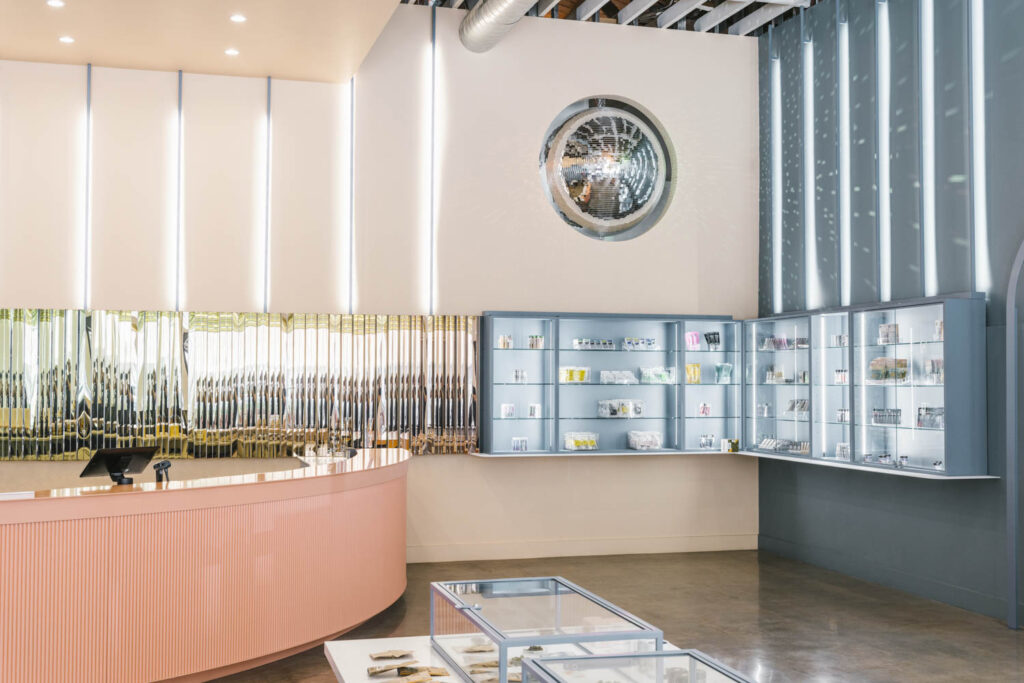 The duo worked with SevenPoints Interiors, a Canadian retail design and manufacturing firm for the cannabis industry, to bring the building back to life with a color story inspired by South Beach Miami, its noteworthy Deco architecture, and Memphis design. "We didn't want it to feel too masculine or heavy, so we went with lighter, more fluid colors," Rigal says.
Arched display shelving, which was crafted from metal tubes for both time and budget considerations, highlights local vendors, while glass-topped cases, reminiscent of museum displays, are a clever way to educate customers on new brands.
Dichroic mirrored windows, which cast a rainbow of light throughout the day, are "a wink and a nod to the rainbow flag and diversity of the queer community," Rigal says. Furthermore, one of the design stand-outs, a large disco ball is an homage to historically queer spaces like Studio 54," he says.
At Green Qween, customers of all backgrounds are invited to discover Los Angeles's nascent cannabis brands in a warm and inclusive environment.